It took quite a long time to develop a voice but dedication and persistent effort towards something always end up resulting in your favor.
Saudi Arabia announced on Tuesday that paves the way for women to obtain driver's licenses.
Saudia Arabia removes an enduring policy that has become a global symbol of the oppression of women in the ultraconservative kingdom.

Positive reactions quickly poured in from inside the kingdom and around the world, with the US State Department welcoming the move as "a great step in the right direction"
Activist Manal al-Sherif, who was arrested in 2011 after a driving protest, took to Twitter following the announcement to express her relief.
                                 "Today, the last country on Earth to allow women to drive … we did it,"
But not everyone reacted positively, however, with conservative voices accusing the government of "bending the verses of Sharia"
Others emphasized that despite the latest development, Saudi Arabia remains a long way off gender equality.
To all those who are criticizing, just a sweet reminder, maximum number of accidents take place in Saudia Arab. But women weren't driving, were they?
The king weighed the negative and positive points of the ban on women driving, the official Saudi Press Agency wrote
Saudi leaders also hope the new policy will help the economy by increasing women's participation in the workplace. Many working Saudi women spend much of their salaries on drivers or must be driven to work by male relatives.
The ban has long marred the image of Saudi Arabia, even among its closest allies, like the United States
Many restrictions on women remain
Women have to adhere to strict dress codes.
Must not associate with unrelated men, and if they want to travel, work or access healthcare they must be accompanied by a male guardian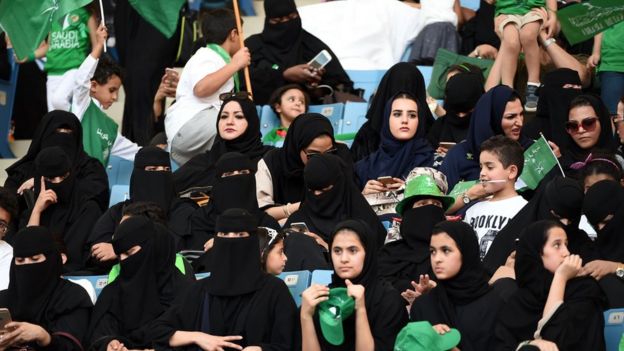 The kingdom recently faced a backlash from conservatives on social media after allowing women to participate in Saturday's National Day celebrations for the first time.
Seems like things are changing and it will still take some time to remove other bans on women.