Karachi is famous for its main food streets cravings. Culture here promotes desi dinners and dine ins; from normal Chae Wala to Agha Saji Dhaba, where people sitting at the roadside, around a table or charpaee ewith family and friends for dinner is quite common. With thousands to choose from, mouth watering aromas pulling you in every direction, you always fail to decide which diner or dhabba to eat from. SO!
We have narrowed down 7 of the best food streets in Karachi you simply cannot miss out on:
1. Burns Road Karachi
If you are living in Karachi, and you have not been to Burns Road then its tome to move.
In this part of Karachi, you will find dishes from Dhaga Kabab and Nehari to Briyani and haleem. Moreover, what makes this place amazing is its open till 4 in the morning. Crazy crowd goes in and out from this street during this time period which makes this place very crowded, especially during the Ramadan.
2. Boat Basin
Boat Basin is situated near Clifton, and unlike Burns Road this place is quite peaceful. From international brands to local brands, this street has much to offer including Frontier, Amigos Express, Agha Sajhi, White Briyani and so on.
3. Do Darya Food Street
Do Darya is yet another popular food street in Karachi. This place not only offers quality food but also the ambiance of sea, giving it a perfect ambiance to relax and have a worthwhile experience. Restaurants including Kolachi, Kababjees, Charcoal BBQ are a few of those that you shouldn't miss out on.
4. Sindhi Muslim Food Street
This food street is situated near Tariq road and offers varieties of Food outlets. Proper dine in solutions have been USP of Sindhi Muslim Food Street. Some of the popular ones include Koffee Chalet, Gloria Jeans, Sizzlers, Nandos etc.
5. Port Grand Food Street
Port Grand is one of those places where you not only dine in but also have fun on the boats an added attraction. It got established a few years back and has really created a kind of hip among Food Lovers.
6. Hussainabad Food Street
Hussainabad Food Street is one of those places that you shouldn't miss at any cost. One of the main features of this place is being opened till late night 3 AM making this crowded as always.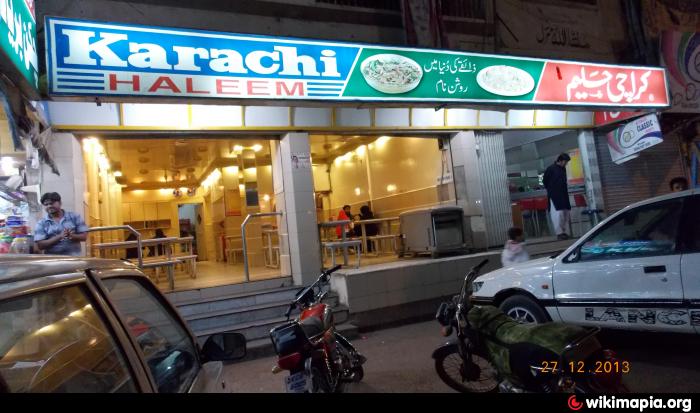 7. North Naziamabad Food Street
Another one on the list is North Nazimabad Food Street which not only offers a wide variety but great quality as well. Although, it may be difficult when it comes to conveyance it works pretty well.